I read Jane Harper's debut novel The Dry last year and enjoyed it very much, so when I spotted its successor I grabbed it. And quite rightly so, as I discovered: if anything I like Force of Nature the better of the two novels, which is saying something.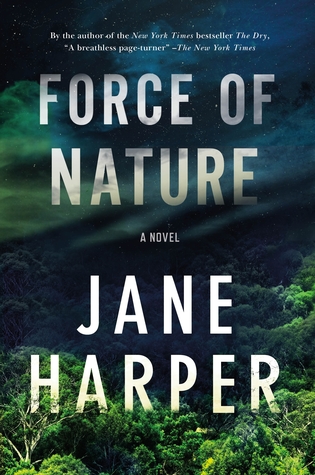 A Melbourne company sends ten of its employees — five men and five women — on two separate weekend-long "bonding" expeditions into the remote Giralang bushlands. The men's expedition passes off without any real hitch, but the women manage to take a single wrong turn early on and, as a result, become hopelessly lost. When they eventually straggle out of the wilderness they're missing one of their number.
As a major search gets under way, Federal Agent Aaron Falk (whom we met in The Dry) and his new colleague Carmen Cooper are dragged into the mess. The company concerned has long been under investigation for financial crimes — money-laundering and the like — and the missing woman, Alice Russell, has been working covertly for the feds to dig out hard evidence of her bosses' malfeasances.
Has Alice genuinely gotten herself lost, or has one of the other women — or perhaps all of them in concert — decided it would be better if she never returned to civilization? And who is responsible for plastering sexually explicit images of Alice's teenage daughter all over the internet? Are the two cases connected?
The book I found myself being constantly reminded of as I read this was a really quite different one: Joan Lindsay's Picnic at Hanging Rock (1967), and perhaps even more so the 1975 Peter Weir movie based on it. I'm sure the fact that both are Australian novels played its part in my mind making this connection, but more important, I think, was the way that in each of the two novels the starkness of the enigma that the disappearance presents resonated with me. In Lindsay's novel the girls really are gone forever, and we'll never discover what happened to them — which is a difficult thing for us as humans (or at least for this particular human) to accept: the knowledge that something is not just unknown but unknowable is unsettling, even threatening. And for the great majority of Force of Nature we have that same terrifying sense that the truth of what happened to Alice Russell may never be known: she may simply have stepped into the thick greenery of the bushland and been swallowed by it.
As Falk and Cooper tease out the truth of the disappearance we learn more about the individual women who were on the expedition, and about those around them — their strengths, their weaknesses, their true natures and worth — much as, I suppose, the expedition itself was supposed to expose. In particular, we discover that the one among them who's generally regarded as the pits is in fact the one who has the greatest integrity and sheer guts of any. Since I was rooting for her from the outset, I raised a small cheer when her true colors were revealed.
A nailbiting thriller and a satisfyingly knotty mystery, with an atmosphere that got under my skin and I'm sure will stay there for a long while, Force of Nature is, well, a force to be reckoned with. Much recommended.